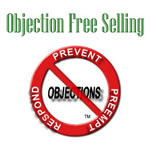 Objection 2 of 85: Already have someone
When does it usually occur? Initial contact.
Probable Cause: Prospect does not believe a need exists.
Objective: Establish a need.
You might make an initial call to find out who they're currently using so you can update your Competitor Analysis to ensure that when you call back, you're prepared to orient to three strong Unique Selling Points (USPs).
It's not uncommon for salespeople to take tours offered by tour guides, purchasing, and other decision-makers they're calling to get the opportunity to walk through their customer's storerooms, quality assurance checkpoints. During these tours, they can also talk to shipping and receiving people, prospect's salespeople, inspect the prospect's products, and use other means to identify their competitors.
More than one of our clients routinely purchased their competitors' products and hired firms to conduct customer satisfaction surveys.
Once you identify your competitors in a particular sales opportunity, you can update your competitor analysis, find your USPs as they apply to each of the different decision-makers. Then your can Research the prospect in the areas such as:
how they make their money, including how your USPs can make their products and services better and easier to sell
help them achieve their strategic initiatives
quantifiably or qualitatively improve their workflow and other business processes
help them carry out their business plan
When you say you can do something your competitor cannot, it's clear the prospective customer can't really say, "already have someone." If something shows up as a need or gap in their business needs, you can at least get the opportunity to conduct your sales interview. Remember, the sales interview is where the actual selling is done - see Value Selling Strategies P.R.O.S.P.E.C.T. Model (Amazon, B&N, BAM).
Resources:

This blog's content comes from Chapter 6: Strategies Specific to Each Objection in the Objection Free Selling book.
Select this link to preview and buy the eBook: Objection Free Selling
Select this link to the eLearning course: Objection Free Selling
Select this link to download the free list of the 85 Most Common Sales Stopping Objections organized by missing "Buyer Beliefs" that cause them.
Select this link to connect and follow Dr. Robert "Bob" DeGroot, MEd, DCH on LinkedIn
Check out the free list of the 85 Most Common Sales Stopping Objections to see what's coming up next.