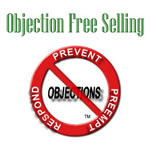 Objection 1 of 85: Not interested.
When does it usually occur? Initial contact.
Probable Cause: Prospect does not believe a need exists.
Objective: Establish a need.
It could be that this decision-maker is having that kind of day where any interest in anything, no matter how critical, just doesn't exist. You can tell by the tone of voice if this is it and if so, it's time to bail. You can always approach them later through another method of contact.
Your objective here is to back out quickly while letting them know that you'll be back in touch later. So, get off the phone without letting the person tell you not to call anyone else in the company.
You might say, "Sounds like you've got too much on your plate even to consider anything else, so let me do more research and get back to you. Thank you. Bye now."
Now call other decision-makers involved in the buying process.
Remember to always lead into your contact with the purpose of your call and the big-bang benefits your Unique Selling Points (USPs) can provide.
Resources:

This blog's content comes from Chapter 6: Strategies Specific to Each Objection in the Objection Free Selling book.
Select this link to preview and buy the eBook: Objection Free Selling
Select this link to the eLearning course: Objection Free Selling
Select this link to connect and follow Dr. Robert "Bob" DeGroot, MEd, DCH on LinkedIn