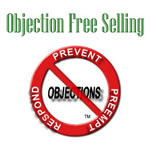 Objection 1 of 85: Not interested.
When does it usually occur? Initial contact.
Probable Cause: Prospect does not believe a need exists.
Objective: Establish a need.
Remember, when you respond, you always start with a transition sentence:
The transition sentences used for responding are like those used for preempting objections in the objectives they accomplish, which are to:
Support without agreeing.
Help them save face.
Prevent arguments.
Pull rather than push (Judo strategy).
Prepare them to receive new information.
Transition sentence examples for responding to objections:
For example:
"Ordinarily, that would be my conclusion too, however . . ."
"And that's exactly why I'm calling."
"That's a good point, and I'm glad you brought it up. When I first looked at this information, I came to the same conclusion, and then I found out . . ."
"That's an important point I want to be sure to cover."
"And . . ." (never "but.")
In this example, you received the common "Not Interested" objection because your Unique Selling Point (USP) didn't hit home with this particular decision-maker (recall there are six different types of decisions made for a sale to occur).
In that situation, move to another that is more in their wheelhouse of responsibility or phrased to appeal to their areas of responsibility.
"I can understand this isn't on your radar right now. We're also involved with ___ (state another USP's missing Advantages and Benefits that will move you to another opportunity within the company)." "Who would you recommend I talk with about that?"
Resources:

This blog's content comes from Chapter 6: Strategies Specific to Each Objection in the Objection Free Selling book.
Select this link to preview and buy the eBook: Objection Free Selling
Select this link to the eLearning course: Objection Free Selling
Select this link to connect and follow Dr. Robert "Bob" DeGroot, MEd, DCH on LinkedIn