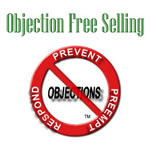 Objection 1 of 85: Not interested.
When does it usually occur? Initial contact.
Probable Cause: Prospect does not believe a need exists.
Objective: Establish a need.
As previously discussed, the general strategy to respond is first to make sure you understand the objection using your "Active Listening Skills." Sometimes however, the objection is so obvious and the motivation behind it is obvious, that you can combine the active listening skill of paraphrasing to reinterpret or provide new information.
For example: "And that's exactly why I'm calling. Let me explain."
Explain, and then ask a Qualifying or Research Questions to make sure you're on target.
"It's been hard to communicate this in our written materials, and that's why it's easier to demonstrate how this meets a costly but hidden need."
Ask about the extent to which the Advantages and Benefits of a Unique Selling Point are a part of an ongoing need your pre-qualifying profile show the customer will most likely have.
Using the previous generic FAB:
Feature: Plastic containers (parts, or whatever)
Advantage: Won't rust, have greater strength than metal, and have UV protection
Benefit: Eliminate replacement costs due to rust
"Your website (cite the source for credibility) said that you keep a thousand product filled metal containers in stock at your seaside facility to meet immediate demands of your customers.Typically, industry standards (cite source) show that 10% of these containers are replaced over the course of a year due to rust. Yours may be a little higher or a little lower, but just for the current stock that's still in the neighborhood of a 100 containers. The point is that more and more of your competitors no-longer have to fund a metal container replacement budget because they've shifted to using containers that won't rust. In addition, to yourself, who else would be involved in the decisions to eliminate that line-item out of the budget?"
When you ask the qualifying profile or research questions, you would look for areas of need where you have Unique Selling Points (USPs).
For example, you might ask if they use metal containers, if their salespeople are getting customer objections related to the products you ship to them having rust on the containers?
Look at your Unique Selling Points and explore how your Unique Selling Points impact their products and services. How your USPs impact their critical processes that relate to their ability to make money, or how your USPs can affect their business plans.
Finally, most Qualifying Profile Questions (do they use metal containers) can be answered using sources other than your key decision-makers. In the above example, you could find this information using the Internet, warehouse staff, purchasing department, financial filings (public companies), drive by, satellite view on a mapping program, and others.
Resources:

This blog's content comes from Chapter 6: Strategies Specific to Each Objection in the Objection Free Selling book.
Select this link to preview and buy the eBook: Objection Free Selling
Select this link to the eLearning course: Objection Free Selling
Select this link to connect and follow Dr. Robert "Bob" DeGroot, MEd, DCH on LinkedIn