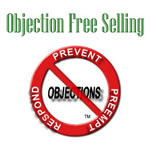 Your Competitor Analysis tells you where your competitors are strong and that those strengths can become objections. The Competitor Analysis also helps you identify how to neutralize each of these strengths.
When that's not possible, you're going to get objections, spoken or not. If you are unable to prevent it from happening, your next best strategy is to preempt it.
You preempt objections by bringing them up when it's most advantageous for you to address them and then close on the answer you provided.
The most effective way to do this is to structure your answer within a transition sentence.
Transition Sentences
Most people are unwilling to change their minds but are willing to make a new decision based on new or redefined information. With transition sentences, you can: 
Support without agreeing.
Help them save face.
Prevent arguments.
Pull rather than push (Judo strategy).
Prepare them to receive new information.
Examples
"Before we go too much further, there are a couple of areas that I would like to address that without explanation could raise concern."
"Many of our customers initially had a question about ____, until they found out ____." "And that's why we no longer have customer concerns about _____. That makes sense, doesn't it?"
"A valid concern some of our customers have is with the ______. So, to compensate we ___, ____, and ____. How do you see that working for you?" 
Fill in the blanks, and you're done.
Again, spotlight and stand on your Unique Selling Points (USPs). Find the pain caused or gain to be had by the missing Advantages and Benefits provided by your USP's Feature. Find out how often they have the pain or miss the gain, and put dollar signs to them. 
Find a penny, and with enough occurrences, you can quantify a million dollars. Take any emotion (negative or positive), and you can build it into a devastating catastrophe, an insatiable desire, or an emotional triumph. Watch how they do this in simple yet dramatic radio or TV advertisements. More on this later in our discussion about how to prevent money type objections.
Always keep in mind that if this is a sales stopping/stalling objection and you fail to address it when it's most advantageous for your to do so, and the prospect doesn't bring it up at that time, then it will do its damage when you're not around to handle it.
Resources
Select this link to preview and buy the eBook: Objection Free Selling
Select this link to preview and buy the eLearning course: Objection Free Selling
Select this link to connect and follow Dr. Robert "Bob" DeGroot, MEd, DCH on LinkedIn.